"This eye massager is amazing!It is easy to use and Every time I'm on the computer or in front of the tv for too long I would use this and it really makes me feel relaxed and relieved! I let my dad use it and after he used it, he loved it so much! overall this is a great product, and I recommend this to everyone!"
⭐⭐⭐⭐⭐ – Tony L. ✅Verified Buyer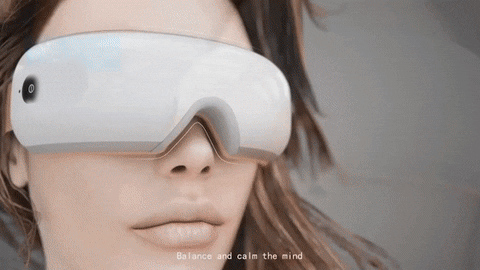 ELIMINATE THE CONSTANT EYE STRESS CAUSED BY COMPUTER SCREENS AND PHONES!
Computer screens and phones are known to cause so many eye problems the masses have today. To combat this, the Therapeutic Eye Massager came to fruition as it will provide a relaxing sensation for your eyes–from the comfort of your own home– so you can work all day and rest all night. 
The Therapeutic Eye Massager will help relieve your eyes from eye strain due to constant computer screen staring. It will do this by providing a hot compress that will give your eyes acupoint massage to relieve eye fatigue, eye strains, dry eyes, and headaches.
Slip it On After A Tiring Day & Relax!
✅Rejuvenate Your Eyes: The Therapeutic Eye Massager work by providing intelligent air pressure and vibration to your stressed eyes by massaging and squeezing vital eye points to cleanse and relieve fatigue after a long day of work. It will reduce fine lines, anti-wrinkle, dark circle fading, fading bags under the eyes, and other eye problems you will encounter when staring too much at computers.
✅Premium Quality: Our Therapeutic Eye Massager is made of high-grade material that is safe, durable, environmentally friendly, and safe to the skin. Additionally to its sleek design, it also has a cute quality that everyone will enjoy using.
✅Adjustable Mechanism: This massager has an adjustable compression that will aid blood circulation so that nutrients will be absorbed more effectively by the eye. Nutrition leads to better eyesight. Besides the vibrating massage that restores elasticity, it is also very comfortable and ensures that you are comfortable using it. The user's comfort is of utmost importance!
✅Comfortable Compress: This eye massager has a built-in heating pad that offers an adjustable moderate temperature between (38℃-42℃) and heating up within 1 or 2 seconds. It can stimulate blood circulation around your eyes, improve dark circles and sleeping quality. With the option of switching between high or low temperatures, you can easily adjust the temperature to suit your needs.
✅Music Option: This eye massager is the ultimate relaxation tool! It provides massages for your eyes while giving the option of letting you listen to music while you are resting and relaxing when using this Therapeutic Eye Massager.
✅Perfect Massager: This eye massager is ideal for individuals who study a lot every night or for people exposed to computers all day long, such as computer operators. It is also perfect for the elderly or individuals who strain their eyes excessively because of their work or activities.
Specifications
Materials: Polyurethane 
Size: 20.8cm 8cm 2cm 
Weight: 280g 
Package Includes
1 x Therapeutic Eye Massager Glasses
1x USB Charging Cable
1x English User Manual
1x Retail Package Box
Shipping And Return Policy:
1. We Are Committed To Providing The Best Products For Buyers. Each Product Will Be Tested During Purchase And Storage.
2. Orders processed timely after the payment verification. All orders are shipped with a tracking number so you can track it every step of the way!
3. We Accept Returns And Refunds Within 30 Days After Order Completed, Please Contact Us.
4. We only ship to confirmed order addresses. Your order address MUST MATCH your Shipping address.